Having a gym membership can be expensive. And even for a short workout you have to get dressed, leave your house and work your way through traffic to go to the gym. It's not at all an efficient way of using your valuable time. That's why bodyweight workout plans that you can perform at home are rapidly increasing in popularity.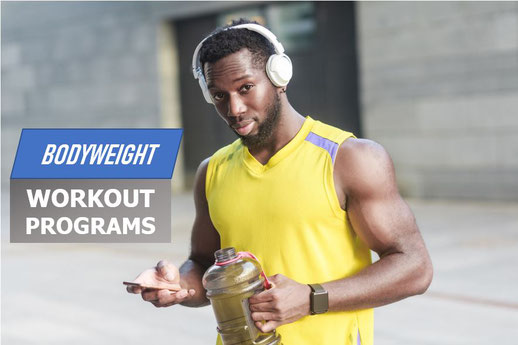 These 'at home fitness routines' can be performed anywhere and at any time: in the morning in your living room, outside in a park, during your lunchbreak or in the evening in the garden, the bedroom or your attic. Because you don't need any fitness equipment it doesn't take up any space at all!
Furthermore, you safe yourself the cost of an expensive gym membership and you eliminate travel time to the gym.
Bodyweight exercises are exercises that you perform without any gym equipment. All you need is your own body and you are ready to start working out! Bodyweight exercises increase your strength, build muscle mass and burn fat without using dumbbells, barbells, kettlebells and machines. The most effective bodyweight exercises are:
·         Pull up
·         Push up
·         Squat
·         Crunch
·         Hanging leg raises
·         Inverted rows
·         Lunges
·         Plank
·         Dips
Is performing a bodyweight routine always better than weight training in the gym? Well, no. Both routines have advantages and disadvantages. These are the advantages of bodyweight workouts:
1.    They are highly efficient. Especially when you include exercises with jumping variations your heart rate raises immediately and your body strength increases.
2.       You are not just focusing on building muscle mass and strength but you also improve your cardio and burn fat really fast.
3.       You improve your body's balance and flexibility.
4.       It improves the strength of your core to prevent (lower)back injuries.
5.       It's a full body workout. Many bodyweight exercises are compound exercises that target multiple muscles with one exercise.
On the other hand, working out in a gym has a stronger social component. Just don't let yourself be distracted. And weight exercises are very effective if you want to target a specific part of a muscle. You can target this muscle via focus exercises which are really effective!
Click here to download a free bodyweight workout plan routine:
Bodyweight workout routine
Bodyweight workout routine.pdf
Adobe Acrobat Document
320.2 KB
Especially bodyweight chest exercises are popular these days. A lot of athletes want a big and well-defined chest. A bodyweight chest workout includes chest exercises that focus on the entire chest muscle: the upper part, central part and lower part. Push ups are a great bodyweight exercise for your chest.
Click here to download a free bodyweight chest workout: 
Bodyweight workout chest routine
Bodyweight workout chest routine.pdf
Adobe Acrobat Document
319.0 KB
After spending many years in the gym lifting weights, I became curious about these bodyweight workout routines. So I started browsing the internet searching for a good bodyweight workout plan. There are a lot of different bodyweight training routines out there, both free and paid programs.
But although I had a lot of gym experience I struggled with putting together an effective bodyweight workout plan. I simply didn't know which exercises were good and how many sets and reps I had to perform. And I didn't just wanted to guess something because it might lead to ineffectiveness or even injuries.
That's when I started looking for 'ready-made' programs. And there are a lot of great options! If you, like me, are struggling with putting together your own workout plan then you want to consider checking out one of these ready-made workout program as well!
When you are looking for a bodyweight program you first have to ask yourself: what's my goal? Do I want to burn fat, build a lot of muscle mass or increase my overall body strength? I decided that I wanted to focus on increasing my strength and at the same time include a cardio element to burn some fat as well.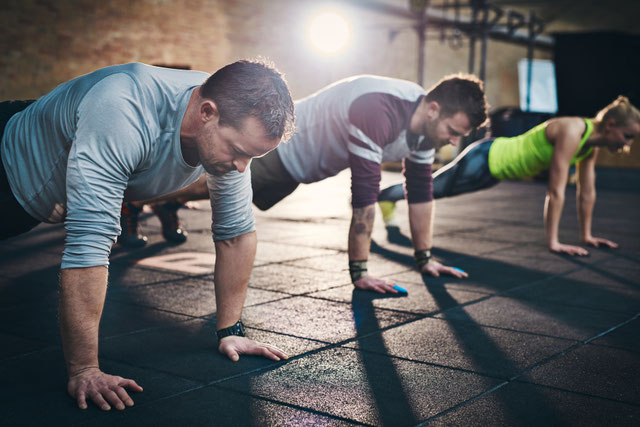 Secondly, are you willing to pay for a program? I always made my own workout schedules and they worked fine. But since I was lacking specific knowledge about bodyweight workout plans I decided that if the price was right and I got value for money that I was willing to spend a couple of bucks.
As I said, there are a lot of different programs out there that will meet your needs. One of the biggest providers of workout plans is bodybuilding.com. They have a large range of different types of workout plans that focus on building muscle mass, losing weight and increasing overall body strength. And the good thing is that you don't need to have 10+ years fitness experience, there are a lot of workout programs for beginners as well.
Their newest program is called FYR 2.0 which focuses on getting fit and in shape in 8 weeks. It consist of 5 workouts per week. They offer a free 7-day trial and a video trailer for more information:
The bodybuilding.com workout programs are amazing value for money. You are guided the entire way. If you do exactly what the program says results are 100% guaranteed. Click HERE if you want to check them out!
The program that I ended up buying is the Bodyweight Beast Program. It's a full body strength program that includes only bodyweight exercises. It's based on two different modules of two weeks each.
What I liked a lot about the program is that they provide all the (digital) information, overview of the exercises and instruction videos. I didn't have to put it all together myself, everything was provided. I just had to follow the program and work up a huge sweat, but that was what I was asking for.
Switching from weight lifting to bodyweight exercises was a good experience. With the Bodyweight Beast Program I realised how effective bodyweight routines can be. I was surprised about how difficult some of the exercises actually were.
And the result was surprisingly good! I noticed after I finished the first module that my muscles were more toned and I had lost quite a bit of fat. To give you an idea of the exercises were included and what a workout looked like, check out this video:
The result surprised me! I started the program with an open mind. I wasn't sceptical but because I spend so many years lifting weights I thought that that just give better results. But I have to admit that I noticed a huge increase of strength and fat loss. My abs are better defined now. And a very important factor for me personally: I didn't lose any muscle mass!

Because you only perform bodyweight exercises you don't put a lot of stress on your joints. I had a painful left wrist and right knee. But the pain diminished over time because I didn't put as much pressure on my joints as I would with weight lifting.

The program also explains the 4 different types of strength (explosive, endurance, stabilization and relative strength) but I didn't really look into that. I think that by performing all the exercises an all-round increase of body strength will occur. If you would like to read more about the different types of strength click HERE.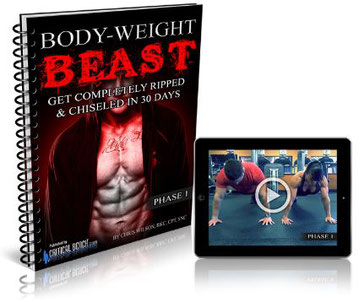 The Bodyweight Beast Program is really good value for money! I paid $7 for the first 4 weeks and received a lot of information, videos, workout plans and 2 bonus items (the Pull-up Beast Challenge and the Pus-up Beast Challenge). The bonus items were nice to receive but I haven't tried them yet, so I can't give you a verdict about them. There is a 60-day money back guarantee if you are not happy with the program. That gave me the feeling that they were convinced about the quality of their product.
The Bodyweight Beast Program lived up to my expectation, I'm really happy with the result. But I still believe that if you want to combine increasing your strength with building muscle mass you have to keep lifting heavy weights as well. Therefore, I will from now on alternate between weight lifting programs and bodyweight programs like the bodyweight  beast program.
 
Click HERE for more information about the Bodyweight Beast Program: